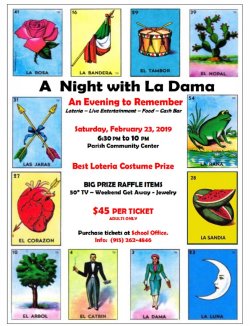 What

Saturday, February 23 - Loteria Game Night - Click for Details

When

2/23/2019
As part of the fundraising contract, each family is required to purchase two $20 tickets.
This year's event tickets are $45 each. Families can opt to apply the additional $25 to
each ticket, or pay the $20 for each ticket. The $20 tickets will receive a ticket to be
included in the BIG PRIZE raffle at the end of the night. These prizes include a 55" inch
TV, weekend getaway and jewelry. Please make payment at the front office.